While experimenting with different photography tricks and techniques back in 2012, I was shooting 360 degree panoramas in the daytime and long exposures of the stars streaking in the sky at night. It suddenly became clear that the potential to combine the two techniques could be a trip! Since the Earth is rotating at a steady 1,040 mph I created a custom rig of 4 cameras with fisheye lenses to capture the entire night-sky in motion. Thus the images show the stars rotating around the north star as well as the effect of the southern pole as well and a 360 degree panorama of the scene on Earth. Each camera is doing nonstop long exposures, typically about 1 minute consecutively for the life of the camera battery. Usually about 3 hours. I then made a script to stitch all the thousands of these panoramas into this time-lapse. I created my rig in January of 2013 while in my final semester at Lansing Community College before receiving an associates degree in photography. Given it was winter in Michigan, I didn't get to chase the notorious clear moonless night sky as much as I had hoped as the region has lots of cloud cover that time of year. Though I was ready on the rare night to go experiment. After graduating in May I had built up quite the urge to hit the road. My rig has taken me to firefly parties in Missouri, dark eerie nights at Devils Tower, through Logan Pass at Glacier National Park, up the mountains of British Columbia, and around the amazing arches and sandstone monuments in the Great American Southwest.
The music is composed and recorded by my very good friend, the acoustic fingerpicking guitar prodigy Brandon McCoy! Brandon who is also from the greater Lansing area in Mid-Michigan is quite the acoustic instrumentalist. The song chosen for this time-lapse is called 'One Letter From Lady.' I moved to Michigan when I was 15 and Brandon was the first friend I made. He was the cool kid playing Pink Floyd licks on a $2 guitar at the time. Soon, after he had spent his cold, dark, sleepless nights perfecting his craft, he started coming up with his very own instrumentals. Some of which are upbeat by mixing picking, slapping, and drumming on the guitar while other compositions of his are calm and soothing and can put you in a meditative trance if you just close your eyes. It has been a great experience watching each other grow as artist for over the past 10 years, and you better believe we will be collaborating on projects like this in the very near future.
Speaking for the both of us, we are grateful that you checked this out this project. If you enjoyed it, don't be selfish... Share it with your friends!
So without further ado...
Here are a few of my results taken from many points across the United States, British Columbia, and Iceland.
Milky Way Rising Over Delicate Arch, Utah
One of the first photos I took while visiting Utah. I instantly fell in love with the plethora of sandstone arches within Arches National Park. Delicate Arch is an amazing 65 foot freestanding arch atop a butte. It was amazing sight paired with the minimally light polluted sky.
Delicate Arch StartrailsMultiple camera, 360 degrees night sky panoramas.
Devils Tower & The Heavens, Wyoming
I had quite an eerie night visiting Devils Tower. I chilly Wyoming wind was blowing and several bats flew above my head. I was only one out there overnight and had an unforgettable experience stargazing at this iconic monument.
Devils Tower & The HeavensMulti-Camera, 360 Degree, 2 Hour, Startrail Panorama. Lit with a Speedlite
Logan Pass at Glacier National Park, Montana
Passed through Glacier on my way to Canada. I wish I had been able to stay for more than one night as the whole park, and the rest of Montana is fantastic.

Logan Pass at Glacier National ParkMulti-Camera, 360 Degree, 3 Hour, Startrail Panorama
Monument Valley, Arizona
I was lucky enough to make friends with the resident Navajo who granted me access to photograph the sacred land overnight. The skies were amazing and the Navajo were very accomodating for me and even lent me a much needed bed to sleep on. The skies above were crisp and clear with lots and lots of lights from airplanes flying into nearby metropolis.
Monument Valley4 Camera, 360 Degree, 3 Hour, Startrail Panorama
Fireflies at Lake of the Ozarks, Missouri
Visiting the lake in the early summer provides a delightful visual candy as it is a perfect environment place to throw a firefly disco party. I spent the majority of the summer shooting scenes for a firefly time-lapse video. Which can also be found on my site!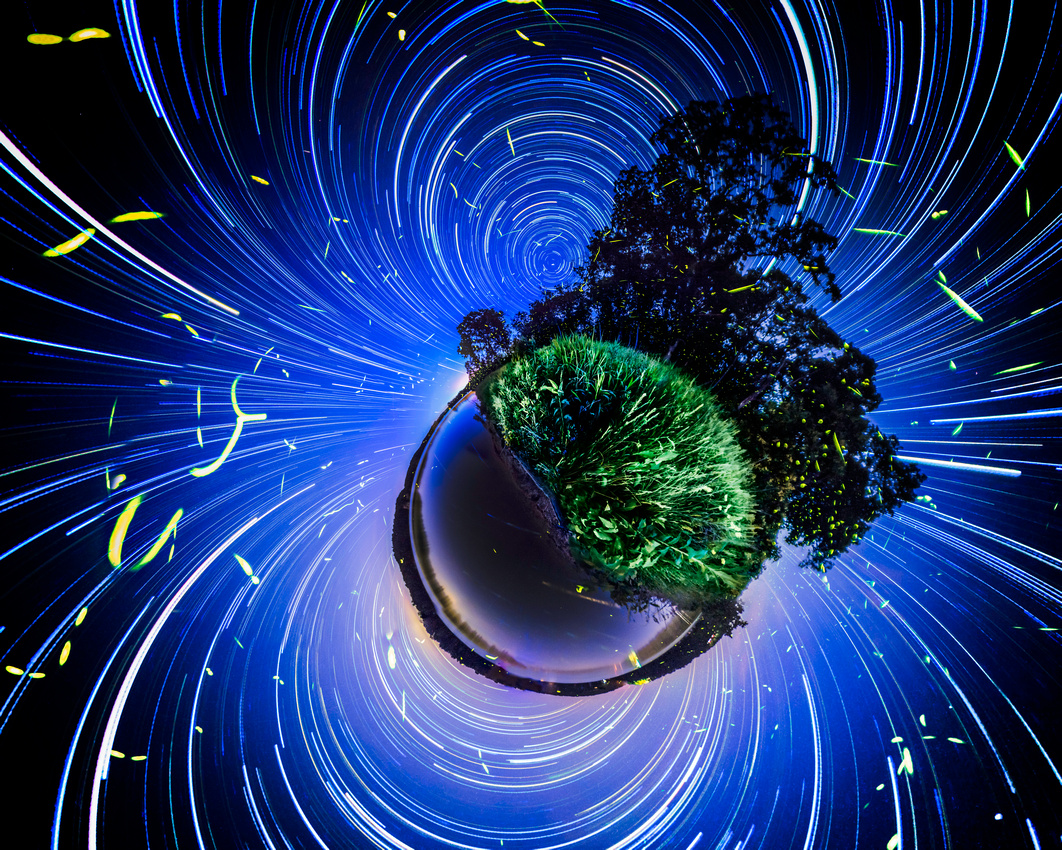 Fireflies at lake of the OzarksMulti-Camera, 360 Degree, 3 Hour, Startrail Panorama
Landscape Arch of Arches National Park
I knew I had photograph Landscape Arch with the night sky as soon as I saw it. It's a perfect example of how scape imitates space. This is arch is actually one of the largest arches on the planet! As it has a span of 290 feet and is only 6 feet around in the thinnest section, it is very fragile. It is well worth checking out on the 2 mile hike as it could see the end of its life soon. Of course soon in the planets sense, could be next week or it could be many centuries from now.
Landscape Arch and the Milky Way
Double Arch Planet of Arches National Park
Since the Double Arch is so cool, I had to make two images of it. Outside & Inside.
The Double Arch Planet - Arches National ParkMultiple camera, 360 degrees night sky panoramas.
Auroras Over Skogafoss, Iceland
Auroras Over Kirkjufell, Iceland
Auroras Over Gatklettur
Auroras & Startrails Over Lake Myvatn, Iceland
Kootenay Lake with a Taste of Northern Lights, British Columbia
Milky Way Over Lake of the Ozarks, Missouri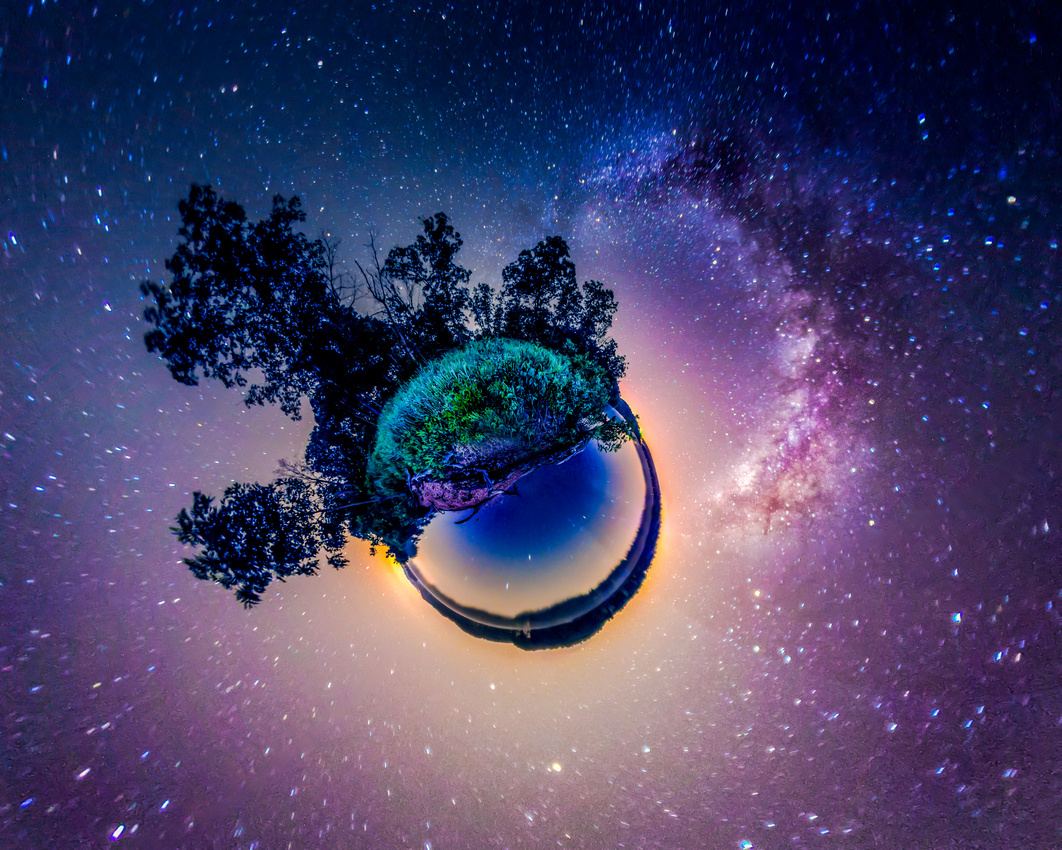 Milky Way Over lake of the Ozarks
A Night at Sleepy Hollow, Michigan
Sleepy Hollow, MichiganMultiple camera, 360 degrees night sky panoramas.
I do really enjoy shooting and creating these. I love being under the stars in locations that photography takes me. All of these are available as prints and other fun things on here. Clicking on the photo will take you to that page.
Keep up to date by liking my Facebook photo page! www.facebook.com/VincentBradyPhoto
Enjoy Yourself!
Vincent Brady